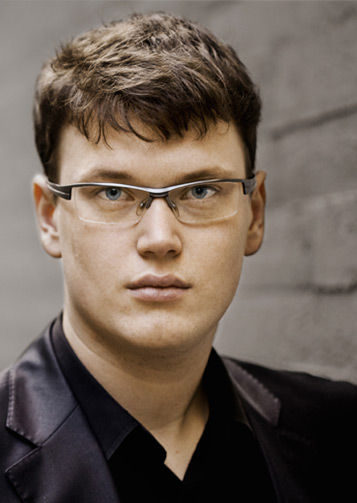 While studying under Prof. Jonas Bylund at the music university,
I always played the middle register in the trombone ensemble. I took on the same position on becoming a member of the Trombone Unit Hannover. Playing middle parts is quite interesting and at the beginning I thought I was safe and could relax because you are surrounded on both sides by trombone players who have "more to do" than just filling in the chords. But my teacher quickly disabused me of my preconceptions. Jonas showed me the other side of being a middle part player. Being as active as the first trombone in an ensemble is what it is all about. You can do things such as taking responsibility for different colours and styles and being a kind of a 'bridge' between the high and low parts. This kind of support is so important for balance and sound and creates lots of colours in an ensemble.

I am very grateful to Jonas for opening my eyes. He helped me to find my position in Trombone Unit Hannover and showed me what I can give to this ensemble. After participating in the German Music Competition in Bonn in 2008 we felt more comfortable with our programme and started to switch parts. Over the years I started spending more and more time playing the bass trombone and after some time, I felt more comfortable on the bass.

We have been together for five years now. The ensemble has developed a great deal and has undergone a number of changes both professionally and personally. I hope all these changes will help us to get even stronger in the future. We still have a lot of work to do, but we need to stay active to make our plans come true.
Mateusz Sczendzina
VITA
Mateusz Sczendzina During his school years at the music-gymnasium in Bytom, Poland, Mateusz Sczendzina participated successfully in several national music competitions and was a member of the Polish Youth Symphony Orchestra for 6 years. He was playing with the Warsaw Philharmonic Orchestra and the Baltic Youth Philharmonic, is performing regularly with the orchestra of the Theater für Niedersachsen in Hildesheim and was on tour with the West Eastern Divan Orchestra under Daniel Barenboim. In February 2011 he has finished his studies at the Music University Hannover with distinction. Since than he is working as a freelancer in Germany and Spain.