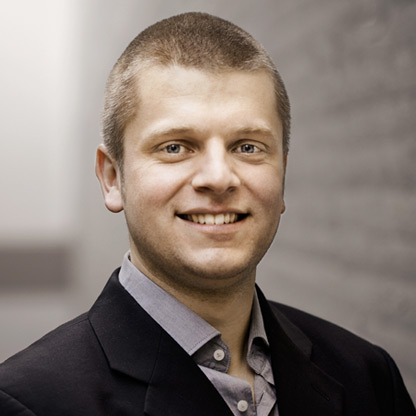 Inspired by the arrangers and composers of the Philip Jones Brass Ensemble,
I first started arranging and transcribing at the age of sixteen. On hearing the great recordings of this fantastic ensemble I remember being totally enthralled by them and dreaming of being part of such an ensemble myself in the future. I was studying the trombone at the Falun Music Conservatory in Sweden at the time, which was a great platform for me to develop my trombone and arranging skills.

My trombone teacher, Prof. Hans-Göran "Bullas" Olsson, inspired me in every possible way and taught me the importance of practising long tones, scales and even 'toilet roll breathing'. There were not enough brass players in the Falun Conservatory to start up a big brass ensemble with ten players like the Philip Jones Brass Ensemble, so I started to write and arrange pieces for my own brass quartet instead. It was great to be part of the ensemble both as a player and an arranger. I learned arranging by listening, imitating, 'borrowing' and recreating.

When I came to Hannover in 2005 to study under Prof. Jonas Bylund, I was astonished that there could be so many good trombone players at one school. This Prof. Jonas Bylund must be someone really special I thought… I wrote some arrangements for the class which Jonas gladly accepted and included in various programmes and concerts throughout Germany.

As a player and an arranger of Trombone Unit Hannover, I think that in one way a dream of mine has come true. I am both active as a player and as an arranger in an ensemble where every member loves what they do. By being in this ensemble I am able to stretch the boundaries of what is possible in a trombone ensemble playing my arrangements.
Lars Karlin
VITA
Lars Karlin
received his first piano lessons at the age of 6. Some years later he discovered his passion for the trombone. He studied in Stockholm and Hanover and is prize winner of international trombone competitions. Well known as an arranger for brass music his arrangements are performed throughout the world. In 2011 during the German Music Competition Lars has gained a double distinction: He won the competition in the solo category and in the ensemble category together with Trombone Unit Hannover. From 2011 till 2013 he was pincipal trombonist at Aarhus Symphony Orchestra in Denmark. Since beginning of 2015 he holds the same position at Konzerthausorchester Berlin.