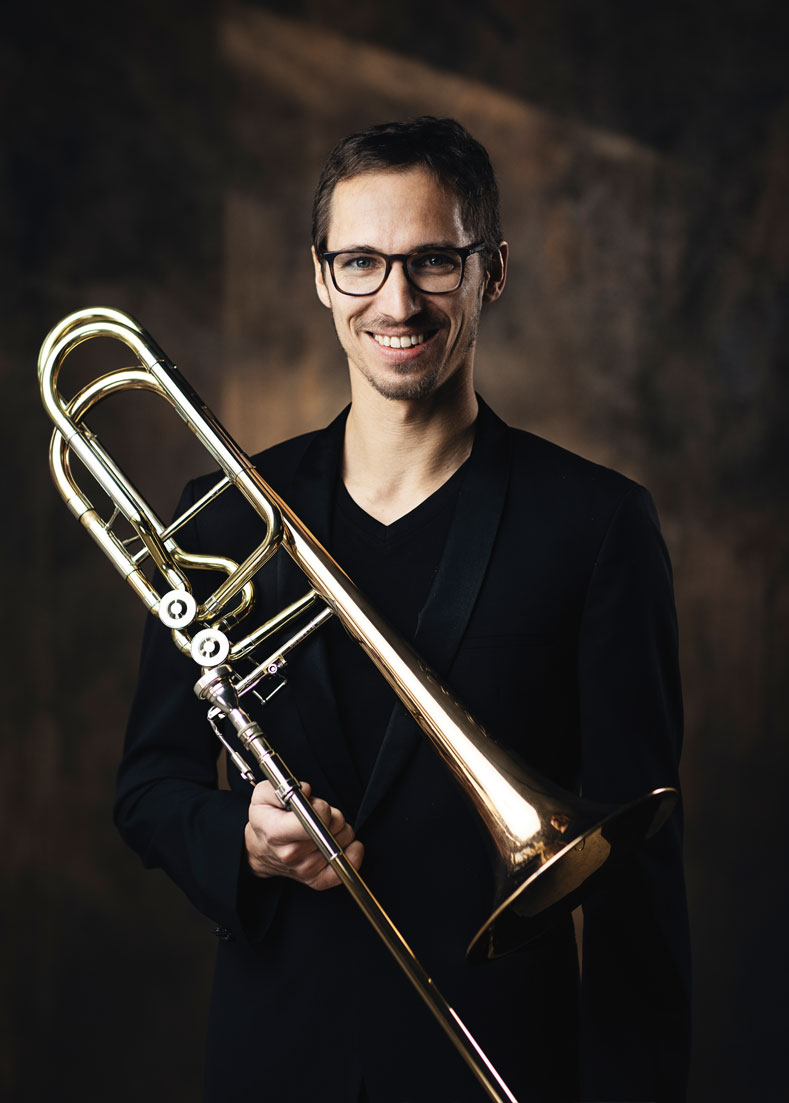 What I find fascinating
about Trombone Unit Hannover is that we work so intensely with people from different countries, who have different cultural backgrounds and different mentalities. I am constantly reminded of the individual methods of practice. This is certainly largely down to personal character, but it is also influenced by regional and national peculiarities.

What I find especially remarkable is that we have so far always managed to retain these character differences and use them to nurture the diversity of our music. In January 2011, when we were in the midst of preparing for the German Music Competition, we were able to arrange a meeting with Daniel Schnyder, who had promised us a composition. Through his collaboration with Dave Taylor, Stefan Schulz and others, a multitude of compositions for trombonists emerged. His trombone quartet proves that he is quite capable of reaching the boundaries of possibility, if not even surpassing them. We impressed Daniel Schnyder in a private concert with the compactness and virtuosity with which we played the overture to Händel's Fireworks Music and Bourgeois' Scherzo Funebre. This is how Olympia came about. Daniel wrote: "The piece is called Olympia on the one hand because of the athletic components: the difficult skills required and the length of the piece, which demand a lot of strength. All Olympic trombonists are also equally involved and all the parts are challenging and polyphonically interwoven. So it is a competition between equals. All the prizewinners will hopefully reach the finishing line together. Here the music diverges from sport.
Olympia is also a reference to the tales of E. T. A. Hoffmann in which the mechanical doll is a symbol of the perfect mechanism. This mechanical technical element is also present in this piece in its polyphonic structure with retrograde inversions and other technical characteristics. The dance of the doll. Man, machine and music are the themes of this piece."

It is difficult to pigeonhole Daniel's music. It is not jazz and it is not classical. There are African elements, American moments, European structures, Asian influences – in the best sense of the phrase: world music. In his pieces he manages to combine all these elements into a Gesamtkunstwerk – a total work of art. We also manage to combine different characters into one Unit: the Swedish tradition of being down to earth fits excellently with Dutch craftiness; Polish precision and Swabian thoroughness complement each other superbly and even the relaxed attitude of southern Europe and the German love of structure can be mutually stimulating.
Michael Zühl
VITA
Michael Zühl
attended the music gymnasium "Schloss Belvedere" and was first prize winner at the music competition "Jugend Musiziert" twice in a row. In 2000 he reveived a scholarship by the Thuringian Ministry of Culture. He was the solo trombonist of the Komische Oper Berlin in 2006/07 and at the Jenaer Philharmonie in 2008. In 2009/10 he was a member of the Staatskapelle Weimar and received a scholarship by the Thuringian Orchestra Academy. From 2010 until 2012 Michael Zühl has been the solo trombonist of the Gürzenich-Orchester in Cologne.
After an 8-month-intermezzo at Badische​​​ Staatskapelle Karlsruhe ​​since the beginning of the season 2014/15 he is principal trombonist at ​​​Deutschen Radiophilharmonie Saarbrücken Kaiserslautern.